The Best Holiday Romances on Netflix
This is a joint post with G.G. Andrew, a writer of fun, flirty, and smart romantic comedy and an all-around awesome reading and movie-watching pal.
It's December, which means that holiday romances on Netflix are cropping up as quickly as holly and mistletoe. But with so many options, and Holiday in Handcuffs no longer streaming, where's a romance fan to start? Good news: We've done the festive watching for you, checking out everything from heartwarming films to fun flicks to all those fake relationship movies (so.many. fake relationships) to find the very best holiday romance movies streaming this month. Grab a hot drink and queue up one of these next time you're in the mood for some holiday swooning!
Christmas in the Smokies
Christmas in the Smokies is a sweet and charming second chance romance. Shelby (Sarah Lancaster) runs her family's berry farm, which is in financial straits. Mason Wyatt (Alan Powell) was Shelby's boyfriend back when they were teenagers, but is now a roguish country music playboy who's screwed around too much and needs to figure out his life. (The video of Mason totally bombing a Dancing with the Stars-type country music show is a highlight of the movie.) Mason ends up staying at the farm to clear his head, in part thanks to Shelby's father (Barry Corbin), the wise bumbling type full of jokes and folksy advice. Mason is 100% appealing as the prodigal boyfriend who learns to grow up, and Shelby is the competent business woman who doesn't take nonsense from anyone. Watching Shelby warm to Mason as he helps her attempt to save the farm will melt the icicles on anyone's heart.
Holiday Breakup
This one was a fun surprise: funny, cute, creative, and with one of the best rom-com heroines. Chloe (Manon Mathews) grew up believing that "falling in love meant you never had to grow up." And she hasn't. She works in a toy store, does trust falls with herself (yes, really), and when she hits Jeff's car with her own while texting, she offers him a toy as recompense. Naturally, the two start an adorable courtship. Jeff (Shawn Roe) is Chloe's opposite in many ways: more serious, a businessman, and the son of an uptight man who doesn't think he should be with someone silly like Chloe (cue the conflict). So Jeff tries to make Chloe more serious, especially since they're about to move in together. Spoiler: it doesn't work. "My dad was right," he tells her. "You do need a clown school." Chloe, excited to hear this, exclaims, "There's a clown school?" The two break up, but because of the pressure of the holidays, they decide to pretend like they're still together for the sake of braving holiday meals with their families. What follows are a string awkward dinners, lessons learned from their own parents (good and bad), and one "perfectly appropriate kiss between two incompatible adults" that makes them realize what they've been missing.
A Christmas Prince
iZombie's Rose McIver stars in A Christmas Prince as Amber, a junior editor who spends her time rewriting the crappy stories of more senior writers. When she gets an assignment, she is sent to cover Prince Richard (Ben Lamb), a ne'er-do-well newsmaker the gossips say might abdicate the throne. Amber instead finds herself mistaken for young Princess Emily's (Honor Kneafsey) new tutor and uses the misunderstanding to move into the palace and their lives hoping to find a scoop about Richard and prove herself as a reporter. A Christmas Prince has royal balls, horseback rides, archery lessons, thrilling rescues from danger, poetry, secrets, retrograde jokes about the unwashed masses from snobby royals, and plot twists. Lessons are learned and true meanings are found. McIver, Lamb, and Kneafsey are so fun and earnest and winning as the three leads that any sappiness can be forgiven.
The Spirit of Christmas
The Spirit of Christmas manages to be many things at once: a little bit creepy, a lot romantic, fairly cheesy, possibly historically inaccurate, and nuttier than your grandma's fruitcake. In other words, I'm probably going to be watching it again this winter. Kate (Jen Lilley) is a workaholic lawyer sent to appraise an old country inn before Christmas. Problem is the place is haunted by the spirit of Daniel (Thomas Beaudoin), a murdered bootlegger who becomes corporeal for 12 days around Christmas each year. He even eats… though he doesn't need to sleep for some reason. We also don't see him shower or wash his period-piece clothing (and it's been almost a century, guys), but he does iron shirtless in one scene (praise be). Anyway, Kate and Daniel must unravel the mystery of Daniel's untimely demise while getting the inn appraised, negotiating their feelings, and properly bartending an event at the inn. Because yes. Why aren't you watching this right now?
12 Dates of Christmas
The movie begins with a dig at Nicholas Sparks, and one of the characters, in talking about the tragic death of his wife, says it was "no great Lifetime Channel tragedy." Zing! This is not one of those Christmas movies. The movie-equivalent of a Christmas cheese ball, 12 Dates is sweet and tasty and nutty and a little bitter all at once. Kate (Amy Smart) is set up on a blind date with Miles (Zach Morris. I mean… Mark-Paul Gosselaar) for Christmas Eve. (Do people really go on blind dates on Christmas Eve?) The problem is she's still hung up on her ex-boyfriend (Benjamin Ayres), whom she ditches Miles to see, and she's kind of a jerk to a bunch of additional people along the way. No worries, though, because at midnight her day starts again with Amy waking up in a department store, after having been spritzed by some apparently magical perfume and fainting. She ends up reliving Christmas Eve twelve times and by the end has learned some important lessons. I'm a sucker for stories in the A Christmas Carol and It's a Wonderful Life vein: anything that shows you what a tool you've been and gives you a do-over until you get it right. It's probably not hard to see why movies with these themes are so perfectly suited to Christmas, when we're all supposed to have a little holly in our hearts.
Christmas Crush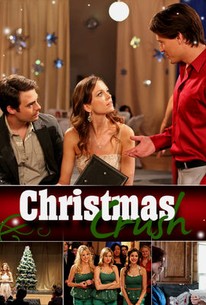 If you like your holiday movies with a dash of high school, look no further than Christmas Crush. In this film, Georgia (Rachel Boston of Witches of East End) returns home and attends her high school reunion, hoping to reunite with her old flame, Craig. The problem is she's boyfriendless and works as a fashion assistant, which is, apparently, somehow embarrassing to her and her father? (I had to double-check that this movie was made after the economy collapsed.) Meanwhile her old friend Oliver (Jonathan Bennett) is also back in town, and we know he's really the guy for her because he's better-looking than Craig, and also his shirt is untucked. Sometimes I don't get the appeal of the friends-to-lovers plot–If two people secretly like each other so much, why aren't they together already?–but it feels realistic here. And the two leads are so likeable: Georgia is the type of girl you want with you when you get a promotion or bad diagnosis; and Oliver is wry and funny, a refreshing change from the often too-earnest male lead, and his banter with Georgia is playful. There are some wooden characters and a couple musical numbers here ('tis the season), but there's also a food fight montage and a sweet takeaway: find the one you can be goofy with.
My Santa
File My Santa under So Bad It's Good. Samaire Armstrong (from The O.C.!) stars as harried single mother Jen, a human interest reporter who just wants a nice Christmas for her son. Matthew Lawrence (Joey Lawrence's brother!) as Chris (Kris?) plays Santa at the local shopping center, is "looking for the perfect wife," and possesses an odd ability to know stuff about people (like their names before he's met them) that seems to increase as he and Jen grow closer. Jen got cynical years ago when her ex-husband left her at Christmas, but Chris/Kris is from "the North Canada" and can glamour people and also make cookies and hot chocolate from scratch in about 10 minutes. Oh, and he needs to find a wife by midnight Christmas eve. Will Jen discover the magic of Christmas in time? This one is fruitcake-level nutty: it's like Miracle on 34th Street meets The Santa Clause with a dash of True Blood. Watch with a glass of spiked eggnog.
A Holiday Engagement
If you like your roms heavy on the com, Holiday Engagement may be your flavor. Hillary (Bonnie Somerville), a former reporter, gets dumped by her "serious snag" lawyer fiancé and is faced with going home for Thanksgiving manless. Like Christmas Crush in its popular holiday theme, Holiday Engagement focuses on the pressures of holiday perfection: to return home with a man on your arm, not to mention a perfect job and life. So Hillary hires actor David (Jordan Bridges) to be her fake fiancé for the trip, after meeting him when he's working as a giant cell phone mascot (which completely sold me on this gem, by the way. Mascots FTW!). The two return home, where much deception and hilarious awkwardness ensue as Hillary and David fall for each other for real. More sharp in its humor than others on this list, Holiday Engagement brings the laughs. It also has one of the more fun, relatable heroines and some tender moments between the leads and Hillary's mother, Meredith (played by Shelley Long). Relationships are a family affair, after all, warts and all.
All I Want for Christmas
Young boy Jesse (Jimmy Pinchak) sends a video into an "All I Want for Christmas" contest sponsored by a toy company looking for some good publicity. He asks for a husband for his widowed mother Sara (Gail O'Grady). The toy company sees bank, and Sara agrees to the dating competition reluctantly, in exchange for the exorbitant amount of money she needs to keep open their community center, named for her husband. However, after going on a series of dates, the toy mogul's son (Greg Germann), who has been orchestrating the publicity stunt, begins to have feelings for her, and when they are caught kissing on camera, events begin to spin out of control. Meanwhile, their neighbor and good friend Ben (Robert Mailhouse) is basically already family to Sara and Jesse — and also he's in love with Sara. Watching Greg Germann of Ally McBeal and Amanda Foreman of Felicity as Ben's girlfriend (in a role that was too small!) was part of the treat of this sweet film. Who will win Sara's heart in the end?
While You Were Sleeping
This one will likely be a rewatch, but like an old warm afghan, While You Were Sleeping is worth snuggling up and watching again. In the 1995 film, Lucy (Sandra Bullock) gets a chance to save the life of the man she's in love with from afar, Peter (Peter Gallagher), when he falls on the train tracks. He winds up in a coma, and through a series of misunderstandings that could only happen in a rom-com, his family comes to believe Lucy is Peter's fiancé. And they're overjoyed, welcoming the lonely Lucy into their world. But then enters Peter's brother, Jack (Bill Pullman), who's suspicious of Lucy even as he finds himself increasingly drawn to her. Set around Christmas and the icy January after, it's got enough of a big, loud family and belly laughs to keep you warm–not to mention the unexpected romance between Lucy and Jack, which Bill Pullman manages to inject with a surprising sexiness. Rewatch to at least remind yourself that sometimes it can be good to slip on the ice.
Dear Santa
Dear Santa is a sillier version of the more subdued All I Want for Christmas. Both movies feature children seeking spouses for their widowed parents and are set largely in community centers that are in honor of the departed spouses but are in danger of closing. Crystal (Amy Acker), a spoiled, rich, careless society girl, stumbles on a "Dear Santa" letter from a little girl looking for a new wife for her dad. When Crystal's parents threaten to cut her off by Christmas if she doesn't find some way of supporting herself, she decides to track down the girl and her father Derek (David Haydn-Jones) and fulfill the little girl's wish. Amy Acker is winning in a warm if pretty ridiculous role. Crystal immediately inserts herself into Derek's life, volunteering at the soup kitchen he vowed to his dying wife to keep open, teaching his daughter Olivia (Emma Duke) how to ice skate, and taking her shopping. Contrivances, cliches (gay soup kitchen cook dressed in pink chef's hat and apron), and light gender stereotyping (fathers apparently are incapable of taking young daughters clothes shopping) abound in this holiday tale, but it remains cuddly and cute throughout. Crystal goes up against Derek's awful girlfriend Jillian (Gina Holden) — we know she's no good because her accessories are knockoffs — and in the process proves there's more to her than "shopping and lattes." Oh, and did I mention this was directed by Jason Priestly, late of 90210?